No. 21C123 New Inner Firebox Appeal



To enable No. 21C123 Blackmoor Vale to be overhauled and returned to traffic it requires a new inner firebox costing £199,900

Further Details Donation Form
8th February 2018
No. 34059 Sir Archibald Sinclair
The new inner firebox for No. 34059 is complete, has been passed by the boiler insurance inspector and has been trial fitted to the outer wrapper of the firebox. The new gusset plate at the back of the crown plate, which gives support to the rear of the firebox has been riveted in position. The outer wrapper sheets are both being renewed with that on the driver's side awaiting fitting. Marking out and drilling of the stays is underway with approximately 2,200 stays being required.
It is hoped that the fitting of the new inner firebox to the outer wrapper and its associated welding, marking out and drilling for the stays will be completed for a return of the boiler to the Bluebell around Easter.
The new inner firebox for No. 34101 Hartland is nearing completion and components for the new inner firebox for No. 21C123 have now been prepared and await welding.
New inner firebox and boiler barrel.
View looking forward to the boiler barrel showing transverse stays, new outer wrapper on the left and a corner of the gusset plate visible on the left.
| | | | |
| --- | --- | --- | --- |
| | | | The new gusset plate and transverse stays in the firebox. |
The new inner fireboxes for No. 34059 (on the left) and No. 34101, the first two off the production line of what may well be six new inner fireboxes for light pacifics.
24th January 2018
Bulleid Express
The table included in the article A Rebuild Renaissance – Far From Home by A.G.S (Tony) Davies in the current issue of Bulleid Express has errors caused by misaligned tabbing. The correct table is shown below: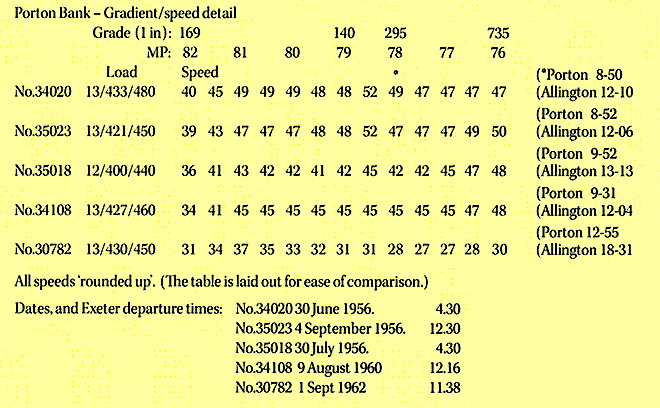 Also on page 18, LH column, D.A.Look should be D.A.Lock.
Apologies for any confusion this has caused.
5th January 2018
Coach 5768
Below are some pictures taken on 31st December 2017 showing progress with coach 5768.
East side of coach in green undercoat.
West side in green undercoat
First class compartment showing re-chromed fittings
Door to second class compartment showing re-chromed door catch.

Close-up of re-chromed door catch
| | | | |
| --- | --- | --- | --- |
| | | | Painted information plates on the end of the coach. |
No. 21C123 Blackmoor Vale
No. 21C123 photographed at Horsted Keynes, 31st December 2017, where most of the large engines have been taken while the Accessible Steam Heritage (ASH) project takes place at Sheffield Park.
No. 34059 Sir Archibald Sinclair
Below are a couple of photographs of No. 34059, minus boiler, outside the works at Sheffield Park taken early in December when the shed was cleared out for the Accessible Steam Heritage (ASH) project.