BIOGRAPHY
Sir Archibald Henry MacDonald Sinclair
1st Baronet of Ulbster, Caithness and 1st Viscount Thurso 1890-1970
Archibald Sinclair aged three.
Born in London on 22nd October 1890, the only son of Clarence Granville Sinclair and his wife Mabel, the daughter of wealthy New York businessman Mahlon Sands. His mother died a few days after his birth and five years later his father also died, leaving young Archibald to lead a rather itinerant life staying with various relatives. When staying with his uncle and aunt, Lieutenant-General and Mrs Owen Williams, at Marlow, Berkshire, he found himself in the middle of fashionable society, for the Williams were friends of King Edward VII.
He was educated at Eton and Sandhurst and was commissioned in 1910, joining the 2nd Life Guards. On the death of his grandfather in 1912 he inherited the baronetcy of Ulbster plus 100,000 acres at the northernmost tip of Scotland. Archibald Sinclair was a bit of a daredevil and this led him to learn to fly a primitive aircraft, which he would go up in before breakfast. It was at this time he started a deep friendship with Winston Churchill even though Archibald was 16 years his junior. They had a lot in common; both had American mothers, were trained cavalry offices, and shared a passion for polo.
Archibald Sinclair and Winston
Churchill in Armentieres, France,
11th February 1916.
During the First World War Archibald Sinclair served on the western front. Early on he was appointed ADC to the Liberal MP, and former Secretary for War, J.E.B. Seeley, commander of the Canadian Cavalry. After Churchill's career was ruined by the Gallipoli disaster Winston took charge of the 6th Royal Scots Fusiliers and for five months Sinclair served as his second in command. While on service in France he met Marigold, daughter of Lieutenant-General James Stewart Forbes, and after a whirlwind courtship they married. He ended the war as a major in the Guards Machine-Gun Regiment.
After the war he became an aide to Churchill, serving as his personal military secretary at the War Office (1919-21) and his private secretary at the Colonial Office (1921-1922). In 1922 he entered Parliament as MP for Caithness and Sutherland, standing as a Liberal. He soon built a reputation as a skilful Opposition speaker and was in favour of Scottish devolution.
In the 1920s the Liberals pulled themselves apart over policies. Archibald, who had become chief whip, took the same line as the Liberal Nationals led by Sir Herbert Samuel. In October 1931 they joined the National Government and he became Secretary of State for Scotland. When the cabinet introduced protectionism the Liberal members disagreed but decided to remain in government, but in September 1932 they resigned over the Ottawa agreement.
After Sir Herbert Samuel lost his seat in the 1935 General Election Archibald Sinclair was persuaded to take his place as party chairman. By this time the Liberal party had shrunk to only twenty one MPs. From 1935 onwards the crisis in Europe overshadowed all other political issues and under Sinclair the Liberals pressed for a strong air force and secure defences. They were becoming increasingly influential and were adopted by Churchill for his 'Arms and the Covenant' campaign. In the House of Commons Sinclair and Churchill worked closely, condemning the Munich agreement and seeking to establish a Ministry of Supply.
Archibald Sinclair meeting Polish pilots.
303 (Polish) Squadron was the most successful Fighter Command unit in the Battle of Britain (more information).
At the outbreak of the Second World War in September 1939 Chamberlain invited Archibald Sinclair to accept office on behalf of the Liberals but he declined. When Churchill became Prime Minister on the 10th May 1940 Archibald became Secretary of State for Air a post he retained until dissolution of the coalition in May 1945.
During the war the Air Marshals found him a considerable asset for he was always willing to champion their cause and use his special relationship with Churchill. Although Sinclair was an advocate of precision bombing, being attracted to the idea of targeting German oil refineries, he had to accept that with the equipment available this was impracticable.
In the General Election of 1945 he lost his seat, coming bottom in a result with only sixty votes separating three candidates.
Sir Archibald Sinclair on the footplate of 'his' locomotive which he had just named at Waterloo, 24th February 1948.
As the Secretary of State for Air during the Battle of Britain, the Southern Railway named Battle of Britain class locomotives No. s21C159, Sir Archibald Sinclair in his honour.
After failing again in 1950 to become a MP he accepted a peerage in the first honours list of the post-war Churchill government, becoming Viscount Thurso, of Ulbster in 1952. Plans to make him Liberal leader in the House of Lords were delayed when he became ill and he did not take his seat until 1954. Sinclair was able to play a prominent part in debates for three years until fate intervened and he spent the remainder of his life as an invalid.
Sir Archibald Sinclair enjoyed the world of politics but did not live for it, he had a happy private life in the company of his wife and children and enjoyed grouse shooting, salmon fishing and playing polo. He took a close interest in his estate and kept in touch with his tenant farmers even though his home for most of the year was in the south east of England.
He died in Twickenham on 15th June 1970.
Coat of Arms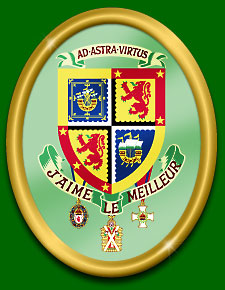 The coat of arms of Sir Archibald Sinclair which appears on the locomotive. The medals are from left to right; Baronet's Badge, The Most Ancient and Most Noble Order of the Thistle (the Scottish equivalent to the Order of the Garter) and Companion, Order of St. Michael and St. George. The artwork was produced by Richard Green to make the replica plates which are fitted to the restored locomotive.
Honours
1919-1964, Lord Lieutenant of Caithness
1922, Companion, Order of St Michael and St George
1931, Privy Councilor
1941, Knighted
1952, Viscount Thurso