Sir Archibald Sinclair's Firebox Problems
Below is a statement from Lewis Nodes (Bluebell Railway Rolling Stock Director) – Autumn 2011
Archie was stopped some weeks ago because of a stay leaking badly and the surrounding platework showing signs of star-fracturing, and a crack in the uppermost part of the right thermic siphon. Investigation of the thermic siphon crack was inconclusive, after grinding out the suspected location and die-penning, and use of the camera on a stick did not show anything useful (mainly because the inside is covered with scale). It would have been possible to do quick-fixes to both of these problems, but it would be likely that further similar failure would occur soon. So with this in mind the rear parts of the tops of both thermic siphons were cut out, which revealed multiple fractures in the right side showing the material is life-expired. The holes thus made allow a better view inside, and as a result of this it is now obvious that significant replacement of old platework is required in order to obtain reliable service.
So the current boiler certificate has ended, and we have planned a repair job which will start a new ticket. The work will include new thermic siphon parts, and replacement of both lower sides up to the height of the brick arch. The Centre part of the crown sheet will also be replaced, and possibly the top corner sections (where the sides join the crown sheet). The work will require the boiler to be taken out of the frames, and is estimated to take 9 months. I have presented to the board a proposal for the works programme for the next 18 months which will include Archie's repair, but although the programme has been approved, the necessary budget request has not yet. So watch this space.
The problem we have now with Archie shows that we should have replaced the entire firebox in one go, however at that stage in the overhaul we would not have had the time for the work to be completed.
Sir Archibald Sinclair Print – 'Firebox Repair Fund'
Because of the need to raise money for 34059's firebox repair Richard Green, who is also the Societies webmaster, has decided to double the donation to the Bluebell Railway Battle of Britain Locomotive Group to £10 for every print sold of his illustration of 34059 Sir Archibald Sinclair.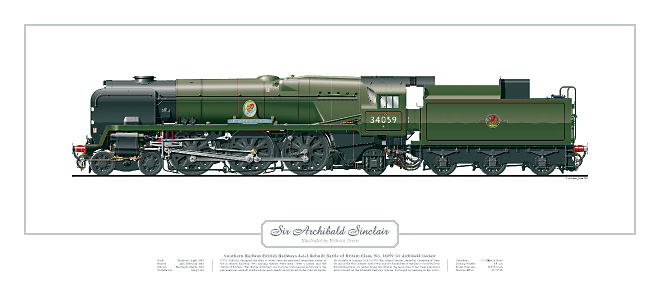 For further details of the print and to order go to www.locos-in-profile.co.uk, price: £29.50 plus £3.50 p&p.